Giving black trans women their flowers now means celebrating them for their individuality, their talents, their strengths, and their abilities.
As pride month has concluded, it's important to understand where this all started, and why we must work harder to help each other get free. Before Pride became the party and festival it is now, it was a riot. The political activism of black trans woman, Marsha P. Johnson, and Latina trans woman, Sylvia Rivera, greatly influenced the Stonewall Riots, which led to the establishment of numerous gay rights organizations and what we now know to be Pride. Pride is especially important now as our black trans sisters remain under the constant threat of violence, discrimination, disenfranchisement, and the infringement of their basic human rights. Trans women are being killed for simply existing and nothing is being done about it. Despite being at the forefront of LGBT Pride and Human Rights Activism, trans women undoubtedly receive nothing in return, except society's ass to kiss. The fact of the matter is: If you're reading this, as a cis person, you need to do a better job of protecting your black trans sisters.
Our black trans sisters have been under attack for a very long time and now with information so readily accessible to us, we have confirmation of what the fuck is actually going on: a national epidemic. I cannot speak for black trans women, but I can stand with them in solidarity. I can advocate for other gender-privileged folks to assist in dismantling the system that deprives black trans women of employment, safe housing, healthcare, and other basic needs. The system of violence for our sisters begins when homophobia, sexism, racism, white supremacy, colonization, biphobia, and transphobia intersect to create a margin that black trans women are pushed into. Simply existing as a black trans woman puts her/them at risk for homelessness, unemployment, survival sex work, poverty, abuse, and/or death. The life expectancy for a black trans woman is 31 years of age. In 2018, there were at least 26 reported deaths of trans women; a majority of them were black. These women are tormented by a range of abusers/attackers; from acquaintances and partners, to complete strangers. Many of their assailants remain unidentified by law enforcement. It can be assumed, by the manner in which police treat black and brown folks in general, that they are not putting in any effort to protect black and brown folks who are trans women. Trans women are often misgendered in police reports/documented case filings; delaying the time it takes for organizers, family, friends, and community members to identify the victims in these incidents. Trans women are also faced with the danger of being misplaced in the wrong detention center; as placement in a male facility creates yet another gateway towards violence against trans women. Law enforcement's refusal to acknowledge and protect black trans women makes it nearly impossible to track the actual number of cases regarding abuse/murder against black trans women. In 2019, we are already mourning at least ten black and brown trans women. The reasons for their deaths are irrelevant; they were people of the community, members of our families, long-time friends, and kind strangers. But most of all, they were humans. We honor each and everyone of our fallen sisters, and carry their spirits with us throughout this journey toward freedom.
Ashanti Carmon
Ashanti Carmon was a homeless, black trans women who was rejected by her family at age 16. Since then, she was forced into survival sex work as a means to take care of herself. On March 30, she was murdered while occupying Eastern Avenue (a popular strip where sex workers and trans women frequently congregate). When police arrived on the scene, they pronounced her dead, after being shot multiple times. Ashanti was killed the day before Transgender Visibility Day, stolen from us at age 27. On the night prior to her death, she'd gone on a date with her fiance Philip Williams. They couldn't fathom why anyone would want to hurt Ashanti.
"Until I leave this Earth, I'm going to continue on loving her in my heart, body, and soul."

Philip Williams, Ashanti's Fiancee
---
Zoe Spears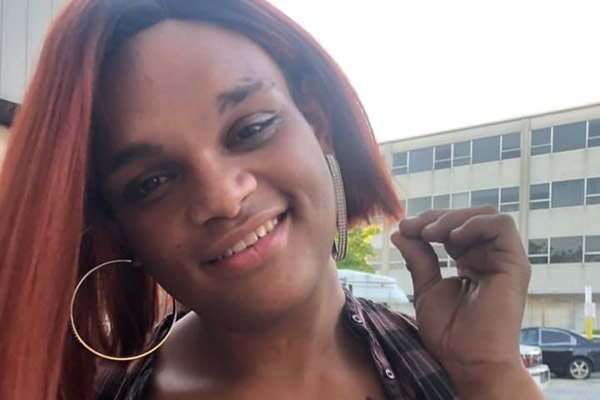 On June 13, 23 year-old Zoe Spears was found on Eastern Avenue, where her friend Ashanti was also fatally shot less than three months prior. Her body was identified by Ruby Corado, the director of Casa Ruby; a bilingual, multicultural community center, where Zoe felt safe, and at home. Corado describes Zoe as her daughter, "bright, and full of life."
"My Zoe had a lot of people who loved her, and I was the main one; I was her number one fan. I love her so much."

Ruby Corado, director of Casa Ruby
---
Muhlaysia Booker
Muhlaysia Booker was assaulted by several men in Oak Cliff (Dallas, TX) one month prior to her tragic death, and was found dead on Saturday, May 18, 2019. Her assault was video-taped and shared around social media, highlighting how society is almost completely desensitized to images of graphic violence, especially when a black trans women is the target. One of the known suspects, 29 year-old Edward Thomas, is no longer in police custody. This is yet another example of how law enforcement is not concerned with providing protection or justice to victims of gender-based violence. It is unclear whether her assault and death are linked, but it is clear that she was in danger for simply existing.
"Such a beautiful spirit taken too soon."

"She lived her life and loved all of who she was."

Family and friends of Muhlaysia
---
Claire Legato
Claire Legato was 21 years-old when her life was stolen. On April 15th, 2019, she was shot during a domestic dispute between her mother, and someone named John Booth. She was taken to the hospital, but she passed away almost a month later, on May 14th. With no known motive, there is a definite possibility that Booth's actions were a hate crime against Claire; based on transphobia, homophobia, and/or sexism. Claire was an actress, who was born in Los Angeles, California; but lived in Florida and Cleveland. She is remembered by her friends and family as someone who was "Full of life".
"Love you, cousin."

"I'm hurt, sad, angry all in one. Fly high."


Claire's Family Members
---
Layleen Polanco Xtravaganza
Layleen Polanco Xtravaganza was a 27-year-old afro-latina trans woman, who was found dead in her cell, while in NYC police custody. She was kept in Rikers, a trans housing unit established by NYC's Department of Corrections. The cause of her death is claimed to be unknown, yet the state is fully responsible. Layleen was thrusted into her circumstances, due to the state sanctioned violence against her in three ways: first she was criminalized for doing sex work, which was her only means of survival. That same system that will press charges against a trans woman for engaging in sex work, is the same system that denies transgender women access to employment by "legal" means. Its same system that set her bail to $500 for a misdemeanor, and placed her in solitary confinement. They left her, and neglected her. No one was there for her in her last moments, even though the Rikers staff was aware that Layleen had severe issues with seizures. Officials claim to be launching an investigation on what occurred at their facility, but she should have never been detained in the first place. New York City's Mayor, Bill de Blasio, announced that they would erect a monument in honor of Stonewall's first leaders, Marsha P. Johnson and Sylvia Rivera. While it is important to celebrate and acknowledge everything transwomen of color have sacrificed for the freedom of LGBT folks, that monument did nothing for Layleen. The laws need to change so that consensual sex work is decriminalized, and income levels of those in police custody are taken into consideration when setting the amounts for bail. Many queer black folks are too poor to be this persecuted.
Among the several other trans women slain in 2019 alone, are Jazzaline Ware, Dana Martin, Daroneish Duncan-Boyd, Michelle "Tamika" Washington, Paris Cameron, Chynal Lindsay, Michelle Simone, and Chanel Scurlock.
There are too many black trans people dying and suffering to waste time having conversations that don't do anything to bring us all freedom. Think about that the next time you ask your friends, "Would you date a trans person?", just to start meaningless conversation, rooted in transphobia. Instead you should ask yourself , "What can I do to help a black trans woman get through the week?"
We have failed black transwomen. We have betrayed black trans women. We have abandoned black trans women. We have left our backs to turned to black trans women. We need to do better, PERIOD.

-Zaenab Mabifa
What can we do ?
As a cis woman, I cannot imagine being tormented daily with the thought of possibly not living to see the next day. I can't imagine being under attack for simply existing. I can't image it, because I have the privilege of not having to. It's easy for us to dismiss and turn a blind eye to issues that do not directly affect us. However, our cisgender privilege is a powerful tool that we can use to cease the disenfranchisement of black trans women in our communities and we all need to learn how to use it. If you have extra money in your pocket, donate it to a black trans woman in need, or an organization that is dedicated to supporting the TWOC in your community. If you own, or have access to folks who own businesses, property, or even extra space in their homes; you have the power to help black trans women find safe housing. If you have a car, you are in a position to assist black trans women travel safely around the city; especially at night. If you are licensed to own a gun, you are in a position to protect black trans women. If you're present during a violent act against a black trans woman, put your physical body in between her and her attacker. Offer to escort her places where she may feel unsafe or uncomfortable. Bail a black trans woman out of jail. If you are breathing and coherent, you have the power to lift up black trans women. Even with no job, no money, and mental health issues; I still have a responsibility to utilize my gender privilege as leverage to gain freedom for my sisters. Its my responsibility to advocate for their right to exist, and navigate through society just as well as I do. Listen to black trans women speak without policing their language or being invasive. Put in genuine effort to befriend and share space with black trans women. Form meaningful relationships with black trans women. Share their stories and call in your cisgender peers immediately after hearing transphobic statements or comments. Spend personal time internally unpacking your own transphobia. Don't think you're too educated or cultured to have a black trans woman fucked up. Humble yourself and be ready to correct yourself when you're wrong. We don't get to decide what's transphobic and what isn't. We don't get to gaslight black trans women, nor engage with them in a defensive manner as they express themselves.
I was recently reminded of the importance of reading and educating yourself before entering on (black) trans spaces. You may approach with the intention of learning and understanding, but some of what you say may be received differently by the person/people you're engaging with. Language is especially important in spaces where trans people are not present. In all-cis spaces, it is important to take every initiative to keep the conversations about the black transgender community rooted in anti-colonialism, anti-white supremacy, queerness, anti-violence, fluidity, and freedom. It is important to remember what freedom actually means and we must maintain awareness on how our language can harvest ideas that are in direct opposition to that. While it is important to acknowledge and fight the crisis that is happening among black trans women, we must take the initiative to help create different narratives of these women; ones that don't only center the violence they face. They aren't meant to be statistics with low life expectancy rates. They are vibrant, multi-faceted individuals, with a plethora of stories that don't always get told. Giving black trans women their flowers now means celebrating them for their individuality, their talents, their strengths, and their abilities. Hire black trans women. Follow the leadership of black trans women. Listen to black trans women. Trust black trans women. There are cis people who are great facilitators and organizers, but invite black trans women speak on your LGBTQ panel or podcast, and pay them. Pay black trans women to lead us. Hell, pay black trans women for breathing. Every time a trans woman of color breathes, it's an act of revolution.
If you'd like to support trans women of color, here are a list of organizations you can make contributions to:
The Trans Women of Color Collective
Stop Killing Black Transgender People ,
-Zaenab Mabifa
Follow me on Instagram: @XPOZ.A
Follow me on Twitter: @_XPOZA
---
Did you gain something valuable from this article? Please consider tipping the author, who has volunteered her time and energy to provide you with this service. Help keep Feminist Homemaker a freely accessible source of empowerment, representation, and community.